Bournemouth Airport is marking the start of its busy summer schedule of flights this week with the arrival of a second based aircraft from Ryanair and the start of TUI's full summer schedule.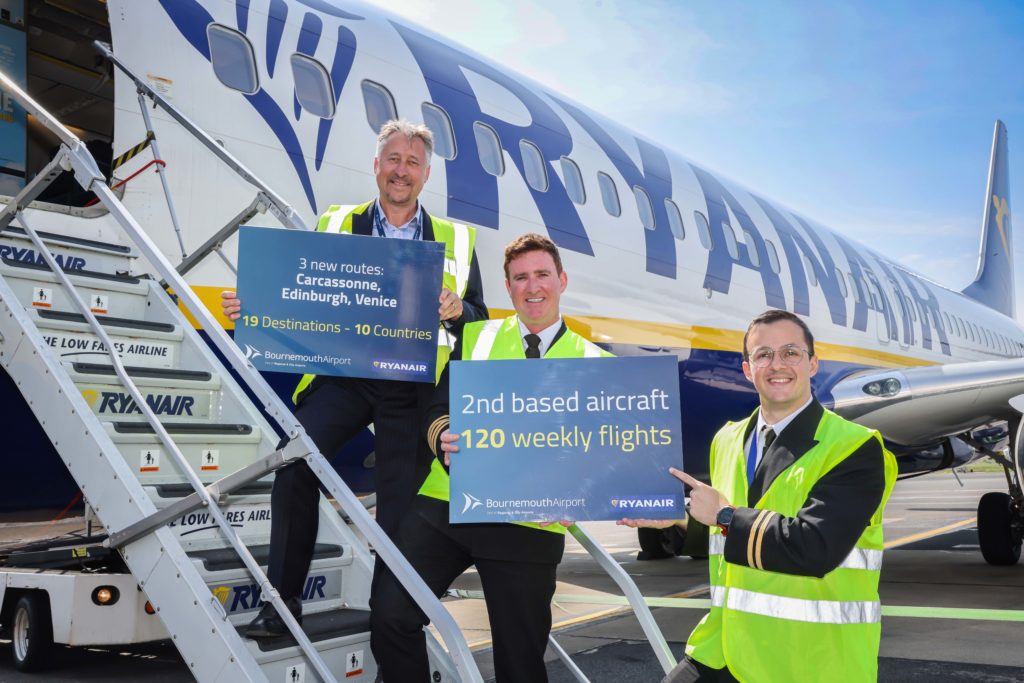 New twice-weekly flights to Carcassonne in France with Ryanair were officially launched on Monday and travel brand TUI begins flying to six destinations this week (Corfu, Zante, Kefalonia, Menorca, Rhodes, and Crete).
Europe's biggest airline Ryanair has based a second aircraft at Bournemouth Airport this year and has introduced three new routes – Carcassonne, Edinburgh, and Venice in 2023. It now offers 120 weekly flights to 19 destinations from Bournemouth Airport, which is a 30% increase on 2022.
In March, Ryanair kicked off its new schedule to Edinburgh and restarted its seasonal flights to Budapest, Palma, and Girona, followed by Murcia and Gran Canaria in May and Zadar in June. In December, the airline launched its new service to Venice, flying three times a week.
During the month of May, TUI will officially start its main summer schedule with a total of nine services getting underway. This comes soon after the operator's recent announcement that it would be increasing capacity by 33% at Bournemouth Airport next year, with a second based aircraft and new flights providing 60,000 extra seats.
Bournemouth Airport's managing director Steve Gill said: "Our busy summer schedule is officially underway. This week really marks the start of the holiday season for us, and we're delighted to welcome Ryanair's second aircraft to the airport and to see TUI's full schedule getting underway. With new routes and more flights to popular destinations across Europe, we're confident that our passengers will enjoy a fantastic travel experience and an excellent choice this summer from Bournemouth Airport. We're very much looking forward to a busy 2023."
A total of 35 destinations are currently available from Bournemouth Airport including:
Cyprus: Paphos
Croatia: Zadar
France: Bergerac, Carcassonne
Greece: Corfu, Crete, Kefalonia, Rhodes, Zante
Hungary: Budapest
Ireland: Dublin
Italy: Venice
Lapland: Enontekiö, Ivalo, Pajala
Malta
Poland: Krakow, Wroclaw
Portugal: Faro
Scotland: Edinburgh
Spain: Alicante, Girona, Gran Canaria, Ibiza, Lanzarote, Majorca, Malaga, Menorca, Murcia, Tenerife
Switzerland: Geneva 
Tunisia: Enfidha
Turkey: Antalya, Dalaman
Special Departure: Barbados (fly/cruise)
To view the current schedule, click here. For more information, visit Bournemouth Airport's website at www.bournemouthairport.com