Flights from Bournemouth to Belfast take off for the first time today
Seats available to book for this summer with fares from £40.99*
Flexible booking policies mean customers can book now with confidence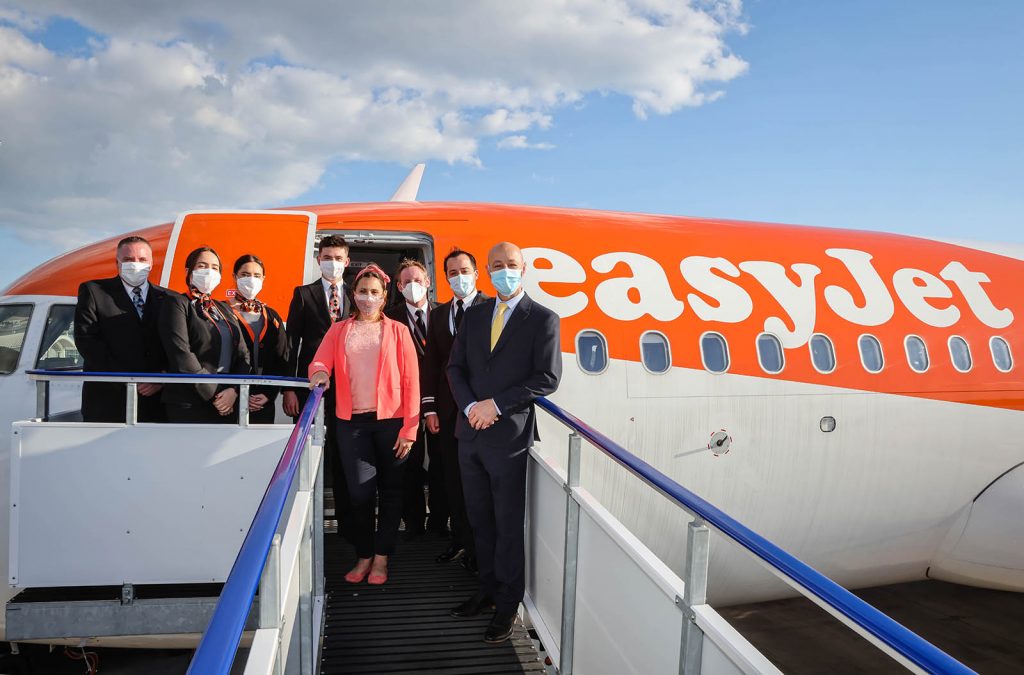 easyJet today celebrated the launch of its new service between Bournemouth and Belfast. The first flight departed from Bournemouth to Belfast at 19:10, marking the launch of more convenient connectivity this summer between the South of England and key cities across the UK. The flight to Belfast is the first of two new domestic easyJet routes from Bournemouth launching this summer, with flights to Edinburgh set to launch on 27 May. 
Both routes will operate twice weekly, with Belfast on Wednesdays and Saturdays and Edinburgh operating on Thursdays and Sundays, with both services running throughout the summer season, with fares starting from £40.99* per person.
All customers booking flights with easyJet benefit from industry-leading flexible policies under easyJet's 'Protection Promise' which means that customers can book now with the confidence that if their plans change, so can their booking.
To book and for more information on easyJet's network visit easyJet.com.
Ali Gayward, easyJet's UK Country Manager said:
"We are delighted to have operated the first flight today and to be increasing our services from Bournemouth Airport. With the addition of the two new summer routes from Bournemouth, our customers now have more travel choices in the region for those looking to take a long-awaited summer break."
Steve Gill, Managing Director at Bournemouth Airport, said:
"The launch of domestic air connectivity between the South of England, Northern Ireland and Scotland is a milestone moment for Bournemouth Airport. The long-awaited return to flying is wonderful news for business and leisure passengers, giving a boost to the regional economy and enabling holidaymakers to take welcome 'staycation' breaks in Bournemouth, Belfast and Edinburgh – some of the UK's most popular destinations."
All easyJet customers will now be able to change their flights this summer without a change fee, at any time up to two hours before departure, or request a voucher providing even more last-minute flexibility. Unlike other airlines, there are no restrictions on dates or destination; customers can transfer to any flights currently on sale up to the end of September 2022, and to any other destination on the airline's network which spans 35 countries across Europe, North Africa and the Middle East. This means that if some travel restrictions are impacting their destination country, such as self-isolation in destination or on return to the UK, customers can easily change their trip to another country on easyJet's network. Plus, should a mandatory hotel quarantine impact a customer's travel destination this summer, customers can now request a refund for their flight within four weeks before departure if the restriction is still in place, even if their flights are still operating.
easyJet has partnered with approved testing firms across Europe so that customers can get access to convenient and affordable testing, including PCR tests from £60 if required for their trip when they book flights and holidays at easyJet.com. The airline has also launched a new travel insurance policy which includes COVID-19 cover as standard. The new COVID-19 travel insurance will cover customers who are diagnosed with COVID-19 ahead of a trip, providing the necessary rearrangements or refunds, as well as cover to customers for any required medical care if diagnosed with COVID-19 during their trip. Customers who are unable to return home due to being diagnosed with the virus are also covered for additional accommodation, necessary medical assistance, and the cost of returning home safely.
The safety and wellbeing of all customers and crew remains easyJet's highest priority and the airline continues to have a number of biological safety measures in place onboard in line with guidance from the relevant authorities. This includes daily enhanced cabin disinfection effective in protecting against coronavirus for at least 24 hours and mandatory mask wearing for customers and crew. All easyJet aircraft are already fitted with HEPA filters, similar to those used in hospitals, which filter 99.97% of airborne contaminants in the cabin, including viruses and bacteria.