Bournemouth Airport owner Regional & City Airports (RCA) and Cranfield University are launching a pioneering 360-degree video experience to help passengers with additional requirements get ready to visit their airports.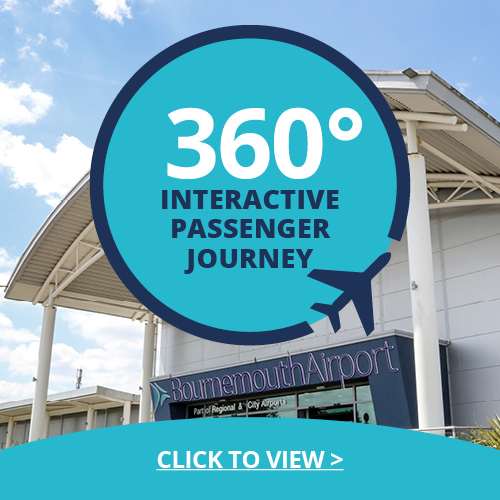 While 360-degree technology has been around for several years, this is the first time it has been used for this purpose by the aviation industry. The pioneering initiative has the potential to improve the experience for millions of passengers who face accessibility challenges when travelling by air in the UK.
3.6 million disabled people face challenges with air travel
According to the Civil Aviation Authority, more than 3.6 million people with disabilities travelled by air in the UK in 2019. Air travel can be particularly daunting for these passengers, especially those who are first-time flyers or have little experience with airport security procedures. This can lead to heightened anxiety, feelings of uncertainty, and added stress.
Consequently, passengers with disabilities or other accessibility challenges often need to plan their airport visits well in advance.
360 video tour will help passengers prepare for travel
The pilot 360-video experience – launching at Bournemouth Airport – will provide departing passengers with the opportunity to view and orientate themselves within the airport in 360 degrees without having to leave home. The narrated tour guides passengers through the airport from the point of arrival, through to check-in, security and the boarding gate, showing and explaining what passengers can expect on their day of travel.
One of the first projects to emerge from Cranfield and RCA's strategic partnership to promote the development, testing and deployment of innovation across the aviation industry, the 360-video experience has the potential to revolutionise the way passengers with additional requirements prepare for their visits to Bournemouth Airport.
Making air travel more accessible and inclusive
Speaking about the project, Dr Thomas Budd, Senior Lecturer in Airport Planning and Management at Cranfield University said: "We think this technology can have a real benefit for passengers who may benefit from planning their journey through the airport in advance. This can include estimating walking distances, as well as understanding the location and availability of seating areas or other facilities within the airport. For passengers with sensory related conditions, the tour also provides an indication of the visual and acoustic environment passengers can expect inside the airport.
"Of course, this alone will not overcome the barriers passengers with additional requirements still face when travelling by air. However, we feel this work can help contribute to addressing these challenges and demonstrate the wider value of this technology."
Andrew Bell, Chief Executive of RCA, commented: "We recognise that air travel can be daunting for passengers with additional requirements, and are committed to doing everything we can to make air travel more accessible and inclusive for all our passengers. By providing our customers with the opportunity to explore the airport before their visit, we hope to make the experience more enjoyable and less stressful, and will be closely monitoring the results at Bournemouth to see if and how the concept can be developed further."
The service will be available to all passengers free of charge as part of RCA's ongoing commitment to making its airports as accessible as possible to all passengers.
Staff at Exeter Airport, also owned by RCA, recently joined forces with RNIB (Royal National Institute of Blind People) to undertake specialist awareness sessions, aimed at better-assisting passengers with sight loss and reduced mobility, and the initiative is set to be mirrored across RCA's operations at Bournemouth and Norwich airports.
Watch the video on the Bournemouth Airport website.